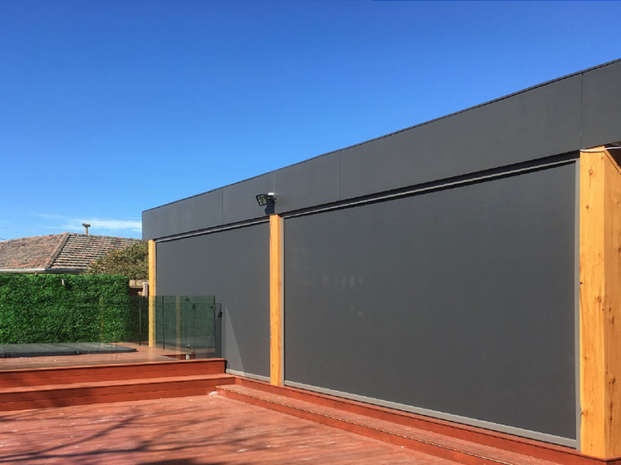 Enjoy the outdoors without being exposed to the wind, rain, or sunlight thanks to the custom-made patio blinds on offer from the professionals at Lifestyle Awnings. Like our full range of outdoor blinds, our patio blinds are specifically made to provide optimal protection from the harsh Australian environment, creating an effective barrier from uninviting weather events all-year round.
At Lifestyle Awnings we have made it our focus to provide our customers with the exact blind that they need for their property. This means we can supply and install a wide range of affordable and modern systems including sun blinds, pergola blinds, canvas or mesh blinds, café blinds, motorised blinds, shop front blinds, roller blinds, second storey and skylight blinds that are all customised to fit your door or window frame without issue.
How Do You Clean Patio Blinds?
Being exposed to the outdoors over long periods of time, patio blinds can become dirty and can show signs of ageing if not properly maintained. To keep your patio blinds looking fresh and brand-new Lifestyle Awnings recommends cleaning it regularly for the best results.
Using a solution made up of lukewarm water and household detergent home and business owners can make their patio blinds look amazing with ease.
How Expensive Are Patio Blinds?
Made from high-quality materials patio blinds have the potential to be an expensive addition to the home. To ensure that we continue to deliver the highest levels of customer satisfaction we offer all of our custom patio blinds at competitive and affordable prices to ensure that as many Melburnians as possible can benefit from our blinds.
Call us on 03 9729 0096 to consult with our expert team today.
OUR PATIO BLINDS INSTALLATION PROCESS
Our process is straightforward and has been developed from our experiences with many customers.


STEP-01
Enquire about Patio Blinds

STEP-02
Free In-House Measurements & Quote

STEP-03
Quality Service

STEP-04
Prompt Installation of Patio Blinds

STEP-05
Exceptional Follow-up Service & Warranty
WHY CHOOSE US FOR PATIO BLINDS INSTALLATION?
Lifestyle Awnings and Blinds was established in 1989.
We Are the Original Lifestyle Awnings and Blinds.
We Always Call Back We Always Follow Up!
Our Shading Systems will keep you beautifully covered both in summer and in winter.
MAKE AN ENQUIRY ABOUT PATIO BLINDS
Send us your phone number and address below.