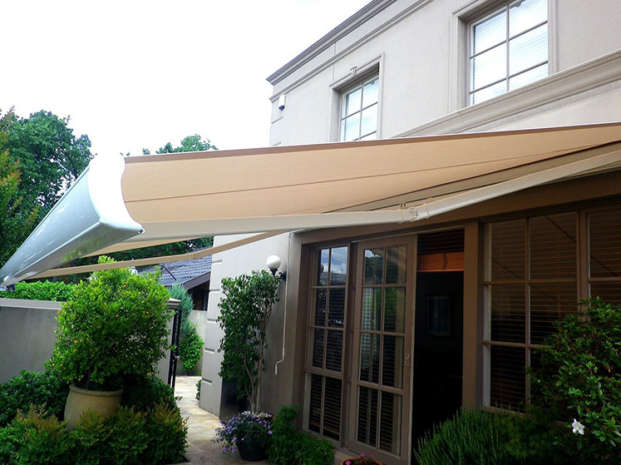 Have a greater level of control over your comfort thanks to the advanced awning manufacturers at Lifestyle Awnings. As specialists in supplying and installing outdoor awnings our experts can fabricate the best folding arm awnings for Melbourne homes and businesses with precision and care.
Unlike fixed French canopy and Dutch hood awnings, our folding arm awnings can open and close with ease, much like retractable, motorised, and drop arm awning styles, helping Melburnians enjoy their courtyard on an overly-sunny day.
How Much Do Folding Arm Awnings Cost?
At Lifestyle Awnings we aim to provide all of our customers throughout Melbourne with the best awnings for the best price. As industry leaders we have the know-how and the ability to build our effective and stylish folding arm awnings for a low price without compromising quality.
Do Folding Arm Awnings Protect from the Rain?
While folding arm awnings excel at shielding and shading people from the sun, to keep them in the best condition possible it is advised to fold them away in times of high wind and heavy rain.
To learn more about our other awning types, including canvas and commercial varieties, or to speak to consult with our team about the benefits of our folding arm awnings, call us today on 03 9729 0096.
FOLDING ARM AWNINGS GALLERY
OUR FOLDING ARM AWNINGS INSTALLATION PROCESS
Our process is straightforward and has been developed from our experiences with many customers.


STEP-01
Enquire about Folding Arm Awnings

STEP-02
Free In-House Measurements & Quote

STEP-03
Quality Service

STEP-04
Prompt Installation of Folding Arm Awnings

STEP-05
Exceptional Follow-up Service & Warranty
WHY CHOOSE US FOR FOLDING ARM AWNINGS INSTALLATION?
Lifestyle Awnings and Blinds was established in 1989.
We Are the Original Lifestyle Awnings and Blinds.
We Always Call Back We Always Follow Up!
Our Shading Systems will keep you beautifully covered both in summer and in winter.
MAKE AN ENQUIRY ABOUT FOLDING ARM AWNINGS
Send us your phone number and address below.