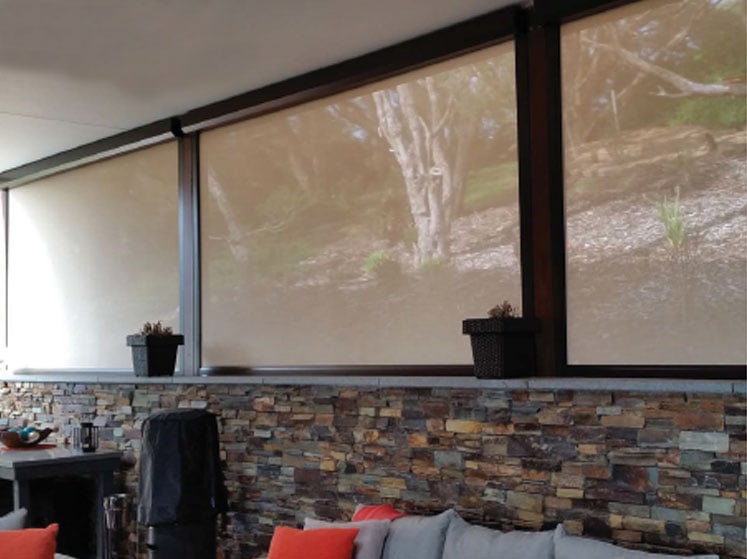 Modern, seamless, and made for contemporary homeowners, our selection of eZip blinds offer premium protection and privacy thanks to their design. Boasting a minimalist design that does not detract from the appearance of the property.
What Are eZip Blinds Made Of?
Made from the highest-quality PVC materials, our selection of eZip blinds are highly-resistant to the damaging effects of exposure to UV radiation. Available in a range of expressive colours our eZip blinds suit the décor of the property and complement your home.
How Much Are eZip Blinds?
At Lifestyle Awnings we strive to make our premium services and products available to as many Melburnians as possible, regardless of budget. By offering the advanced and easy to operate custom eZip systems at affordable prices we help Melbourne homeowners improve their property and quality of life.
To discuss the prices of our eZip, Carbolite, Ziptrak, and ShadeNext systems with our team call us on 03 9729 0096.
OUR EZIP BLINDS INSTALLATION PROCESS
Our process is straightforward and has been developed from our experiences with many customers.


STEP-01
Enquire about Ezip Blinds

STEP-02
Free In-House Measurements & Quote

STEP-03
Quality Service

STEP-04
Prompt Installation of Ezip Blinds

STEP-05
Exceptional Follow-up Service & Warranty
WHY CHOOSE US FOR EZIP BLINDS INSTALLATION?
Lifestyle Awnings and Blinds was established in 1989.
We Are the Original Lifestyle Awnings and Blinds.
We Always Call Back We Always Follow Up!
Our Shading Systems will keep you beautifully covered both in summer and in winter.
MAKE AN ENQUIRY ABOUT EZIP BLINDS
Send us your phone number and address below.