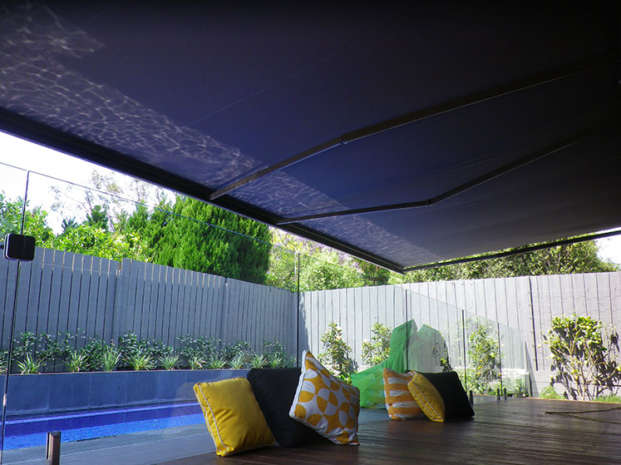 Find the right awning to suit your tastes and your home thanks to the modern and passionate team at Lifestyle Awnings. Able to open and close neatly at the touch of a button our advanced and responsive retractable awnings provide Melbourne home and business owners with immediate cover should the sunlight become far too intense.
Outdoor Retractable Awnings
Much like motorised, folding arm, and drop arm awnings, our retractable awnings are space-saving and an innovative way to offer your home or business protection from sunlight in a matter of moments. Made from strong materials our outdoor retractable shade awnings filter large amounts of UV radiation and sunlight, helping prevent inhabitants of the home or business being sunburnt.
How Much Are Retractable Awnings?
As a leading awnings manufacturer the team at Lifestyle Awnings know how to deliver a premium product for an affordable price. Thanks to our innovative and advanced approach our team can keep your costs down thanks to our competitive prices.
Whether you want expressive French canopies, canvas awnings, Dutch hood awnings, or our retractable awnings, you can get the awning made for your home or business for the best price possible.
Can Retractable Awnings Be Used in the Rain?
As outstanding awning suppliers, the team at Lifestyle Awnings have the expertise to craft the best domestic and commercial awnings on the market today. While they offer exceptional cover from the sun, retractable awnings are best used during clear conditions, or when it is lightly raining.
To get the best outdoor retractable awnings in Melbourne, or for bespoke commercial awnings, speak to the professionals at Lifestyle Awnings on 03 9729 0096.
RETRACTABLE AWNINGS GALLERY
OUR RETRACTABLE AWNINGS INSTALLATION PROCESS
Our process is straightforward and has been developed from our experiences with many customers.


STEP-01
Enquire about Retractable Awnings

STEP-02
Free In-House Measurements & Quote

STEP-03
Quality Service

STEP-04
Prompt Installation of Retractable Awnings

STEP-05
Exceptional Follow-up Service & Warranty
WHY CHOOSE US FOR RETRACTABLE AWNINGS INSTALLATION?
Lifestyle Awnings and Blinds was established in 1989.
We Are the Original Lifestyle Awnings and Blinds.
We Always Call Back We Always Follow Up!
Our Shading Systems will keep you beautifully covered both in summer and in winter.
MAKE AN ENQUIRY ABOUT RETRACTABLE AWNINGS
Send us your phone number and address below.