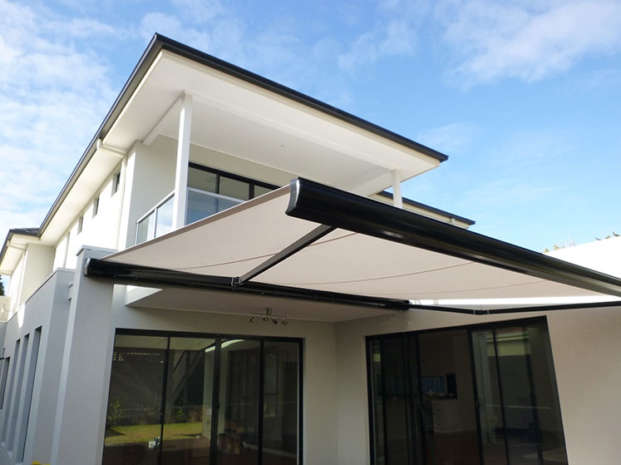 As a leading blind supplier and installer in Melbourne the professional and dedicated team at Lifestyle Awnings can deliver the right, custom-made, outdoor blinds that Melbourne domestic and commercial customers have been searching for.
Committed to offering all of our customers with the specific blind that they need or desire Lifestyle Awnings can deliver everything from canvas and mesh blinds, to sun blinds, venetian, café, patio, pergola, shop front, and motorised blind styles to assist in controlling light, sound, and privacy levels in the property.
External Blinds
Designed to withstand exposure to wind, rain, and sunlight, the range of external blinds from Lifestyle Awnings aim to improve the quality of life of our valued Melbourne customers. Seamlessly installed over window and door frames our external blinds are made to deliver years of faithful and reliable service.
How Much Do Outdoor Blinds Cost?
At Lifestyle Awnings we strive to provide our customers with the highest levels of satisfaction thanks to our thorough and prompt approach. As a leading blind supplier we can keep our prices competitive, ensuring that home and business owners with differing budgets are able to afford the best blinds on the market.
What Are Outdoor Blinds Made Of?
Being made to withstand the extreme and unique Australian environment, our outdoor blinds are made from high-quality and resilient PVC, ensuring that they are highly-resistant to rotting or fading.
For more information about our outdoor blinds, or our custom skylight blinds, give us a call on 03 9729 0096.
OUR OUTDOOR BLINDS INSTALLATION PROCESS
Our process is straightforward and has been developed from our experiences with many customers.


STEP-01
Enquire about Outdoor Blinds

STEP-02
Free In-House Measurements & Quote

STEP-03
Quality Service

STEP-04
Prompt Installation of Outdoor Blinds

STEP-05
Exceptional Follow-up Service & Warranty
WHY CHOOSE US FOR OUTDOOR BLINDS INSTALLATION?
Lifestyle Awnings and Blinds was established in 1989.
We Are the Original Lifestyle Awnings and Blinds.
We Always Call Back We Always Follow Up!
Our Shading Systems will keep you beautifully covered both in summer and in winter.
MAKE AN ENQUIRY ABOUT OUTDOOR BLINDS
Send us your phone number and address below.