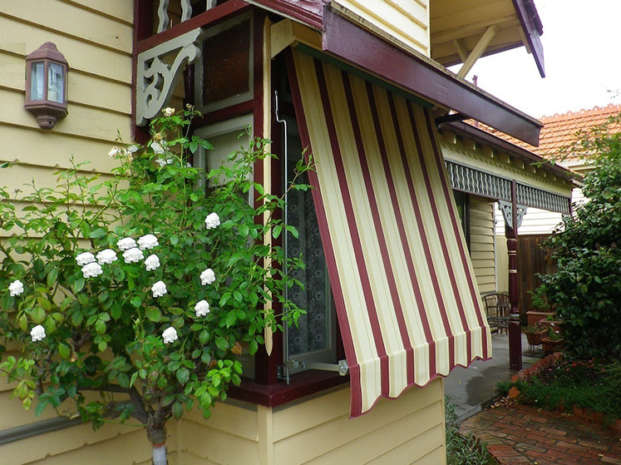 For outdoor awnings in Melbourne that suit your tastes, and the aspirations you have for your property, get in touch with the team at Lifestyle Awnings. Made to last in Australian weather conditions our selection of outdoor awnings offer increased protection from the rain, wind, or sunshine.
External Awnings
Custom-made to suit the specific outdoor environment of our customers, our external awnings excel in both domestic and commercial spaces. To ensure that they fit whatever space they are installed in, our external awnings come in retractable, folding arm, drop arm, and motorised varieties for increased convenience.
What is the Cost of Outdoor Awnings?
At Lifestyle Awnings we aim to supply and deliver the best external awnings in Melbourne. With the high-quality of our canvas awnings our customers can gain the right awning for an affordable price, ensuring that they can get the awnings they need without having to compromise on price.
What Are Outdoor Awnings Made Of?
Made to withstand daily use and wear, the French canopy, Dutch hood, and other outdoor awnings on offer from Lifestyle Awnings are made from resilient canvas, allowing them to have a long life and provide increased shelter over other materials.
To find out more about our selection of cutting-edge and expressive domestic and commercial awnings call us today on 03 9729 0096.
OUR OUTDOOR AWNINGS INSTALLATION PROCESS
Our process is straightforward and has been developed from our experiences with many customers.


STEP-01
Enquire about Outdoor Awnings

STEP-02
Free In-House Measurements & Quote

STEP-03
Quality Service

STEP-04
Prompt Installation of Outdoor Awnings

STEP-05
Exceptional Follow-up Service & Warranty
WHY CHOOSE US FOR OUTDOOR AWNINGS INSTALLATION?
Lifestyle Awnings and Blinds was established in 1989.
We Are the Original Lifestyle Awnings and Blinds.
We Always Call Back We Always Follow Up!
Our Shading Systems will keep you beautifully covered both in summer and in winter.
MAKE AN ENQUIRY ABOUT OUTDOOR AWNINGS
Send us your phone number and address below.